Previous: Display additional data
Hey there, I finally managed to upload source files for my Project!
The program currently listens for the previously mentioned diagnostic data. The Requests are send outside the program. I will change that when i figure out how to get the data without activly asking for them. Just by observing the bus.
As you can see above, there is also a housing for the raspberry and the other components. The system is now installed hidden in my car, directly connected to the entertainment bus and the aux-in of the headunit.
The Connection is made with a 15-pin d-sub connector as follows: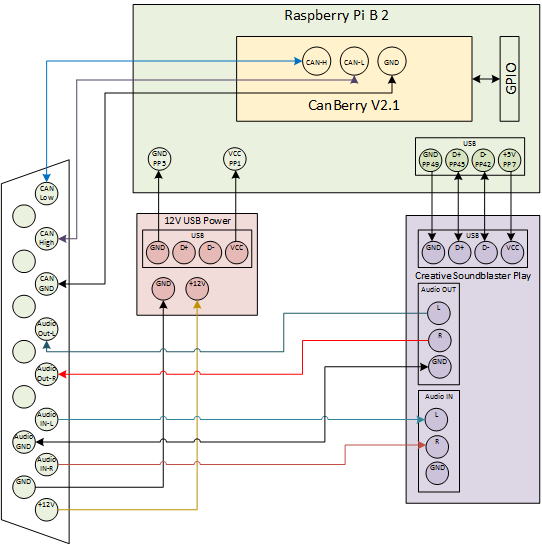 The audio in connects to the audio out of my tv receiver, the 12V are from the power source for the interrior lighting. This line will be activated when the car gets unlocked and stays active for about 30 minutes after locking the car. So the components won't stay active all the time and drain my battery but will be available as soon as I enter the car.
My 12V USB adapter has two USB-ports. One was dissoldered and connected directly to the raspberry solder-pads PP1 and PP3. The other one is connected to my 4G-Router outside of the housing.
The Soundcard is also directly soldered to the Raspberry PP7 (+5V), PP42 (D-), PP45 (D+) and PP40 (GND).
For now I am really satisfied with this build although it is not yet ready. But becaus of that, the next update might still take a lot of time. Sorry for that…
Next: Capture the values without activly asking, upload the values and create nice graphs with them.